About
Vision
The Center of Creative Inheritance for the Future passes on to the next generations various artistic resources, both analog and digital, and including techniques as well as practical and tacit knowledge. Opening the archives to the public, we aim to promote new expression and research that leads to a society in which the future of the arts is created together.
---
Creative and Circulative Archive
We will serve as a permanent archival base (hub) within the Tokyo University of the Arts, building a co-creation network with art universities, research institutions, artists and researchers worldwide as well as the local community, creating a system that will sustainably generate new projects, artistic productions, and collaborative research stemming from the expressions of the past.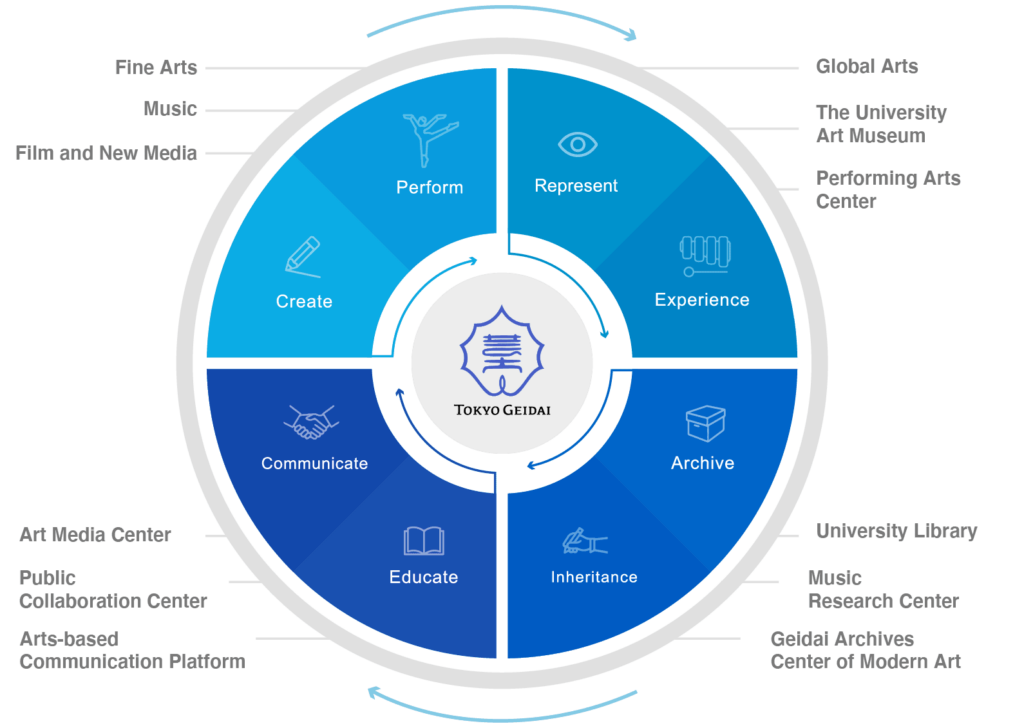 ---
History
In 2018, the university established the Center for Conservation and Restoration of Cultural Properties
In 2021, the university reorganized the Center for Conservation and Restoration of Artistic Resources
In 2022, the university established The Center of Creative Inheritance for the Future
---
Plan & Design : OGAHARA Minami
Master course, Design Division, Graduate School of Fine Arts, Tokyo University of the Arts (Sep. in 2022)
Our Symbol
"Cultivating towards the future"
Our symbol was formed by disassembling and reconstructing the kanji characters for "future" (未来). The way the word "future" changes form represents our philosophy, to support new expressions while leveraging what is already present, and always accepting changes.
Research
---
We will archive the things, techniques, and practical and tacit knowledge that exist around works of art, such as musical scores and artistic material, records of exhibitions and performances, contents of instruction in art education, or how skills were mastered, to build a system where novel creativity is continuously generated from past expressions; we call this the creative and circulative archive.
With our center as an archival base (hub), we will establish a system of collaboration on artistic resources beyond departments which each specialize in fine arts, music, film/new media, and arts studies/curatorial practices. Our co-creation network will also extend to people of all kinds, holding joint research, study groups, and symposiums for the release and utilization of various artistic resources.
By promoting research on the diversifying media and techniques of art, and fostering human resources involved in the archiving, preservation, and inheritance, we will design a symbiotic society that co-creates the future of the arts.
Members
メンバー
(2022年9月1日現在)
---
---
TAIRA Yuichiro
Associate Professor
---
---
NI Xue
Education and Research Assistant
---
USUKUBO Kaori
OSUMI Kinya
OTAHARA Akio
KAMURA Tetsuro
KUROKAWA Hiroko
TAMURA Fumio
NUMAGUCHI Takashi
HATTORI Hiroyuki
FURUKAWA Kiyoshi
MATSUOKA Asahi